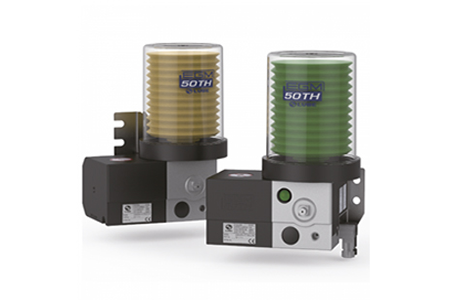 EGM-50TH(Auto Lubrication Pump)
Model indication method Model Part Number EGM-50TH-10S-2C-D 101513 EGM-50TH-10S-3P-D 101523 EGM-50TH-10S-4C-D 101508 EGM-50TH-10S-7C-D 101503 EGM-50TH-10S-7C-LD  101501 EGM-50TH-10S-7C-LFBD  101500 EGM-50TH-10S-8P-D  101518 Repair parts set Pumping unit (10MPa, 10ml / min) Relief unit dedicated tool Model Part Number 50THPRS-10 539461 Specifications Power DC24V Power Consumption 36W Discharge Pressure 10MPa Driving time Continuous Energization Stop time No Restriction […]
Detail infor
Model indication method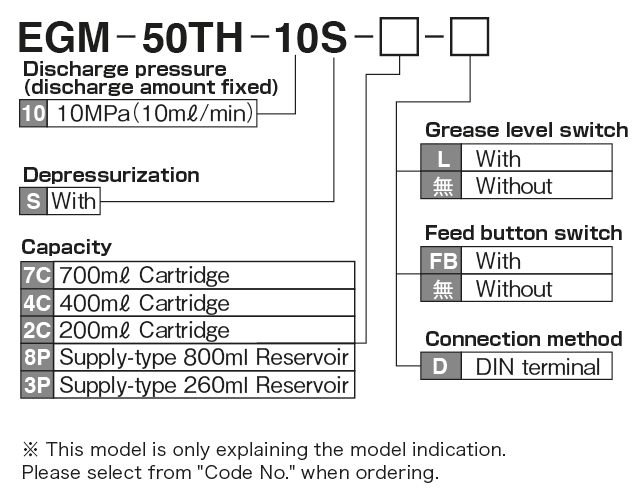 | Model | Part Number |
| --- | --- |
| EGM-50TH-10S-2C-D | 101513 |
| EGM-50TH-10S-3P-D | 101523 |
| EGM-50TH-10S-4C-D | 101508 |
| EGM-50TH-10S-7C-D | 101503 |
| EGM-50TH-10S-7C-LD  | 101501 |
| EGM-50TH-10S-7C-LFBD  | 101500 |
| EGM-50TH-10S-8P-D  | 101518 |
Repair parts set
Pumping unit (10MPa, 10ml / min) Relief unit dedicated tool
| Model | Part Number |
| --- | --- |
| 50THPRS-10 | 539461 |
Specifications
Power
DC24V
Power Consumption
36W
Discharge Pressure
10MPa
Driving time
Continuous Energization
Stop time
No Restriction
Connection Method
DIN terminal
Guaranteed Grease
Lube Original Grease
Feed switch
Yes (optional)
Grease level switch
Yes (7C only)
Covers
Flame retardant resin(UL94-V0)
IP standard
Get
CE standard
Get
Pump air removal
Driving timeNo Restriction
Use Consistency Range
NLGI NO. 00. 0. 1
Weight
7C 2.2kg、4C 2.1kg
2C 2.1kg、8P 3.3kg
3P 2.2kg
Directions for use
● Use manufacturer's warranty grease.
● Never use molybdenum disulfide grease.
● Use lithium grease. (If it is other than Lube original grease, please be sure to consult.)
● Be careful not to mix any foreign matter when replenishing grease or replacing cartridges.
● Be careful not to let air enter the pump when replacing the cartridge.
● After greasing or after replacing the cartridge, be sure to open the air vent plug and vent the air inside the pump.
Dimensional Drawing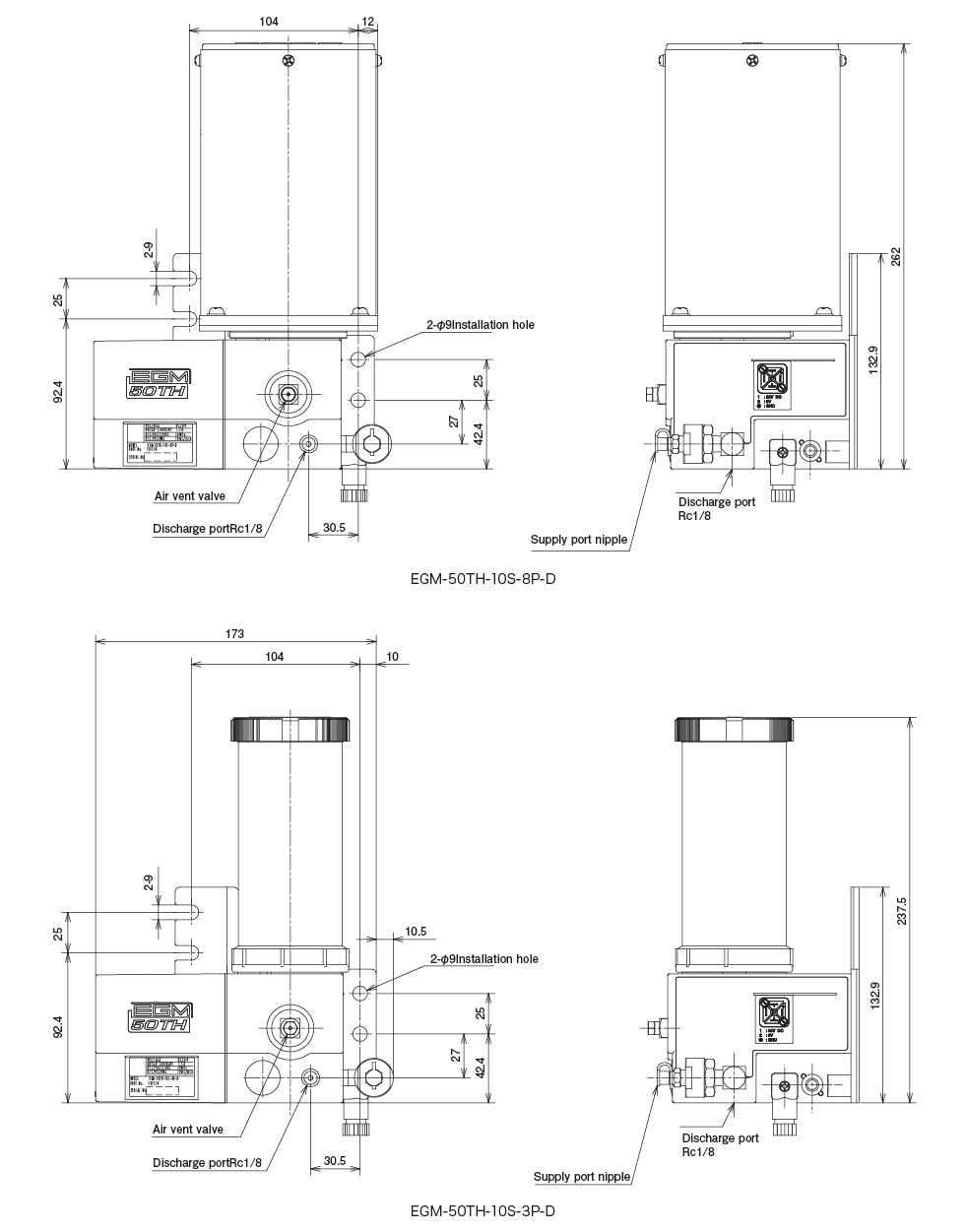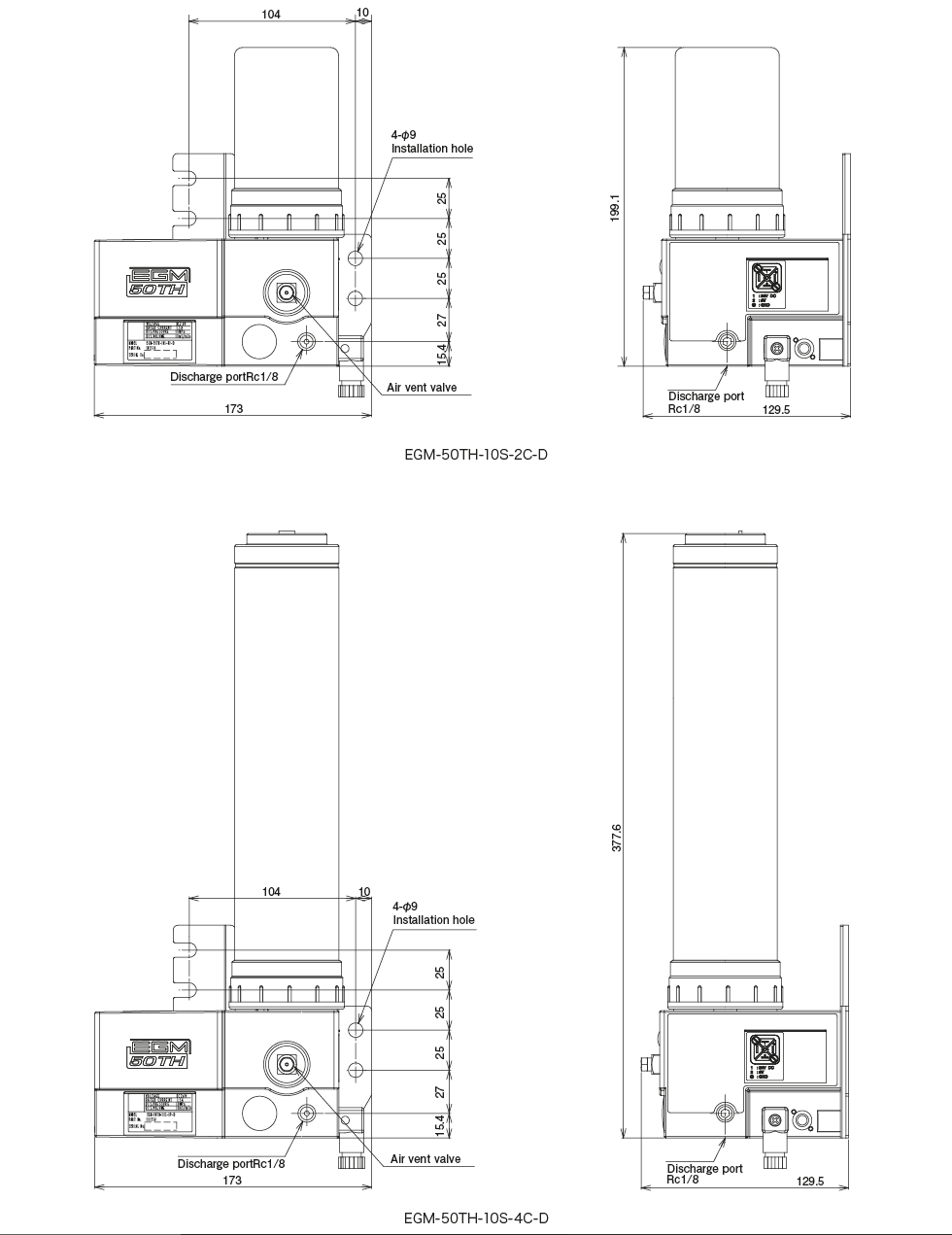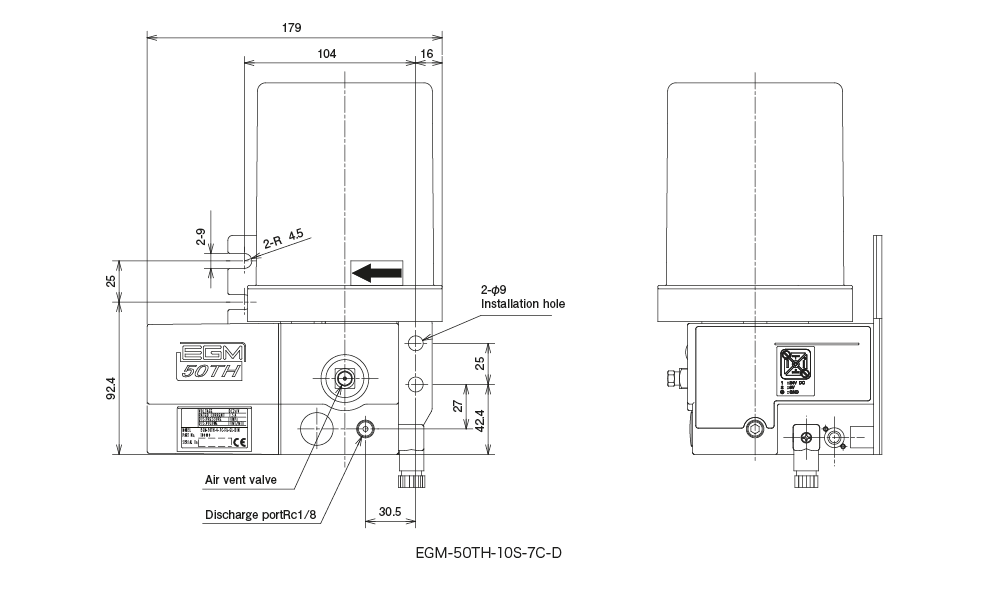 Repair parts set